---
9/5/2019
---
4/20/19

Announcing Pot Sounds! The next C&TH Album. Recorded at FT. Lawton in Seattle and Engineered by Jim Roth on a historical Ampex MM 1200. Available in all formats, Fall 2019.

"Both listening to the recording take shape and watching Howell and Roth communicating almost without words, standing at the console, adjusting and fine-tuning each song's many moving parts — which, when isolated, are revealed as totally locked-in — is a marvel. The songs here have a different feel than The Well-Rounded, still guided by Howell's unaffected, vaguely British-sounding vocals — a little Bob Pollard, a lot David Bowie — but with less lo-fi crunch and more open space. On them, engineer Roth played various auxiliary instruments — slide guitar, some synths, bells — but is quick to clarify that Howell handled pretty much everything else — bass, drums, guitar, Wurlitzer, all the harmonies.

"It's your Pet Sounds," Roth exclaims, tongue firmly in cheek — the landmark Beach Boys album, which turns 50 this year, is, of course, a desert-island disc among audio engineers. But he's not off-base, really. It's got lots of hooks, lots of layers. One song has a chiming guitar refrain that conveys a similar instant nostalgia as Modest Mouse used to — to Northwest kids Howell's age, a band as influential as Nirvana, if not more. At least two have almost Krautrock-like outros you get so lost in you aren't sure if the song's been going on for five, ten, 15 minutes — hell, could even be a lock-groove — but it's so good it doesn't matter." - Charlie Zaillian (Big Takeover)
---
4/3/19


'Compound Thought' is the fourth and final track from Video Record
Full album now available at https://clarkeandthehimselfs.bandcamp.com/
and all other digital streaming/download platforms

Tour Dates:
4.20.19 Liquor Store, Portland OR
4.21.19 Belltown Yacht Club, Seattle WA
4.24.19 Hyperion Tavern, Los Angeles CA
4.29.19 Gold Diggers, Los Angeles CA
5.3.19 All Summers Eve, Wonder Valley CA

W/Built to Spill + Oruã
6.26 Minneapolis, MN
6.27 Omaha, NE
6.28 Madison, WI
6.29 Kalamazoo, MI
6.30 Detroit, MI
7.1 Columbus, OH
7.2 Louisville, KY
7.3 Cincinatti, OH

More Dates TBA
---
3/27/19
---
3/18/19
---
3/13/19


Proud to Present! Clarke and the Himselfs Video Record.
This album will be released in increments. 'So Sorry' is the first video/song.
Bandcamp Pre-Sale Link
Recorded 01.0.5.2019
Sound by Tuck Nelson
Edits by Clarke Howell
Direction by Nathan Snyder
Sooth Saying by Dustin Jones
Artwork by Elijah Lindsey
---
3/10/18

March/April Tour Dates
3/14/18 - Los Angeles, CA - The Hi Hat
3/21-25/18 - Boise, ID- Treefort Music Fest
4/4/18 - Oakland, CA - Secret
4/5/18 - San Francisco, CA - Amnesia
4/7/18 - Newport, OR - Cafe Mundo
4/8/18 - Portland, OR - (RESCHEDULED)
4/11/18 - Seattle, WA - The Vera Project
4/12/18 - La Grande, OR - HQ
4/13/18 - Enterprise, OR - The Range Rider
4.14/18 - Pullman, WA - KazzuFest
4.18/18 - Reno, NV - Clarke Lane Maul
---
3/1/18
---
7/15/17
---
3/15/17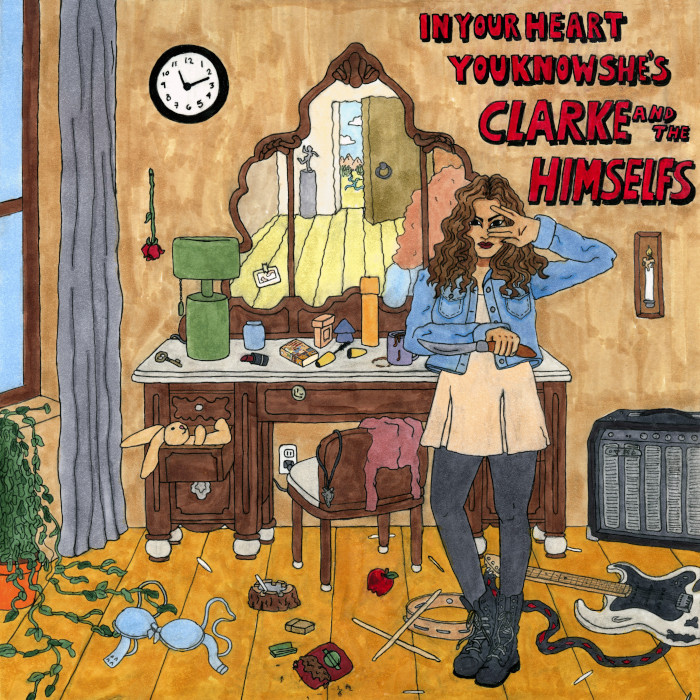 Proud to announce this new Curly Cassettes release 'In Your Heart You Know She's Clarke and the Himselfs' in Your Ears, March, 2017. Artwork by Miza Coplin. www.mizacoplin.com
TOUR DATES:
3/16 - Seattle, WA @ Black Lodge
3/17 - Moscow, ID @ Hunga Dunga
3/18 - Missoula, MT @ VFW
3/26 - Boise, ID @ Treefort Music Fest
J&L Defer and Clarke & the Himselfs 2017 Spring US Tour
~ w/ Helvetia
^ w/ Baked
° w/ Two Boys Alright
* w/Manhattan Murder Mystery
3/26 Boise, ID @ Treefort Music Fest
3/27 Baker City, OR @ Lone Pine Cafe
3/28 Seattle, WA @ Central Saloon
3/29 Olympia, WA @ TBA
3/30 Portland, OR @ Bunk Bar ~
3/31 Eugene, OR @ TBA
4/1 Ashland, OR @ Oberon's
4/3 Oakland, CA @ Nightlight
4/4 San Francisco, CA @ Hemlock Tavern
4/5 San Jose, CA @ The Ritz°
4/6 Santa Barbara, CA @ Funzone
4/7 Los Angeles, CA @ Ham and Eggs *
4/8 Los Angeles, CA @ TBA
4/12 Flagstaff, AZ @ Flagstaff Brewing Company
4/13 Tucson, AZ @ TBA
4/14 Silver City, NM @ house show
4/15 Albuquerque, NM @ Corpus Arts
4/16 Santa Fe, NM @ Ghost.
4/18 Fort Collins, CO @ house show
4/19 Denver, CO @ Hi-Dive
Clarke and the Himselfs only
4/20 Grand Junction, CO @ Barons

---
1/1/17
---
9/8/16
---
6/2/16
---
5/20/16

Spring Tour


5/20/16 - Flagstaff, AZ - Firecreek
5/21/16 - Albaquerque, NM - Tannex
5/22/16 - Trinidad, CO - Gnu
5/23/16 - Lubbock, TX - The Local
5/24/16 - Shreveport, LA - House Show
5/26/16 - Oxford, MS - The Wall
5/28/16 - Memphis, TN - Lamplighter Lounge
5/29/16 - New Orleans, LA - TBA
---
5/8/16
---
4/2/16
---
3/16/16

Clarke and the Himselfs tours Europe this April!
---
12/26/15

Some kind of Year end Review:
I'm very proud and thankful to have 'The Well-Rounded Clarke and the Himselfs' released and in physical form. David Strackany and I recorded that album in two days in March of 2014. in 2013 I left New Orleans and had been touring around all summer and ended it rather aimlessly in Portland. I met Dustin from Run on Sentence and played a show with him a few days later, then again, then on a houseboat, then Zeb Dewer, Dustin, and Dan Galucki and I did a mini-tour of Oregon where we played Goat Fest on a farm an hour or so south of Portland.
Paleo was also playing the fest, I hadn't seen David for years and new he was living up in Portland. In 2010 My Friend Tuck and I drove out to Rexburg, Idaho and made a mini-doc on Paleo that might end up seeing the light of the day on of these days. David set an early example in my mind for playing music and touring and the possibility of making that happen. I played my set and David seemed really love it, I gave him a tape, and he asked if I wanted to record an album.
A couple months later we met up at My Father's Place in Portland and planned our scheme out. I had it in my mind that this album would be something definitive, something encapsulating all these songs I had been writing and playing for a couple years, old ones and new ones, recorded proper at their best versions, and to ultimately be released on Vinyl.
Shy of 3 months, two years later, driving down to Cascade Records in Milwaukee, OR and picking up the physically thing in my hand felt pretty good.
You can pick up 'The Well-Rounded Clarke and the Himselfs' online at scavengercult.bandcamp.com
Or the release show in Boise on Sunday the 27th @ The Record Exchange 4pm.
Or the release show in Portland on Tuesday the 29th @ The Liquor Store 9pm w/ Paleo & Helvetia
While it took a minute to get this one out - the good news is you won't have wait too long for two others.
This summer we recorded 'Clarke and the Himselfs and Friends' on 2 inch tape at the Tonic Room in Boise, ID. Engineered by Brett Netson and Featuring Demmi Netson, William Bendler and Otis Crook as the main players. It's in the can and you can expect it on Vinyl next summer which will include a CD copy of the live album 'The name of this band is Clarke and the Himselfs and Friends'
Which is great, and the full band is always how I imagined this music played live. This current rendition of Clarke and the Himselfs you see started with myself and Demmi. If you see Clarke and the Himselfs and Friends - it is this full band. If you see Clarke and the Himselfs it's just me.
Although it's been an amusing struggle with the folks responsible for writing the band names in the bill. I guess they think I'm fucking with them when I tell them the band is called, "Clarke and the Himselfs and Friends" and they're right, I am. But I'm hoping the difference will stick eventually.
Then this other one was just recorded a couple weeks ago on 2 inch tape, Engineered by Jim Roth. I spent the week of Thanksgiving, and all of it's day, recording Demo's (which will probably eventually see a release itself), then a week later drove up to Seattle to record this album. Which is all new stuff, most of it you've never heard. Jim and I are mixing that album down after the show on the 29th and hoping it will be in the can before the New Year.
Which leaves about four albums recorded this year. Look out for those ones.
In addition to those release shows, I'm playing two shows in Seattle.
Saturday January 2nd @ Lucky Liquor & Sunday January 3rd @ Victory Lounge
and a House Show in Olympia on the 4th. TBA.
.. and a longer album release tour after those, that will be announced eventually. & More tours & More Albums.
peace, Clarke
---
7/1/15
Proud to Present, The Well Rounded Clarke and the Himselfs. The Definitive debut LP. Engineered and Mixed by David Strackany. Mastered by Mell Detter. Recorded on half inch tape, at Fluff and Gravy in Portland, Oregon. Pre-Order Here! Available Oct 2015
---
7/1/15
---
6/28/15
---
Built to Spill Tour
pleased to announce that Clarke and the Himselfs will be joining W.I.B.G. and Built to Spill on tour in May. Here are the dates!

5/7 Nashville, TN - Exit/In
5/9 Atlanta, GA - The Earl (Shaky Knees Festival Late Night)
05/10 Carrboro, NC - Cat's Cradle
05/11 Charleston, SC - Music Farm
05/12 Jacksonville, FL - Jack Rabbits
05/13 Ft. Lauderdale, FL - Culture Room
05/14 St. Petersburg, FL - The State Theatre
05/15 Orlando, FL - The Social
05/16 Tallahassee, FL - Sidebar Theater
05/17 New Orleans, LA - Howlin' Wolf
05/18 Houston, TX - Warehouse Live
05/19 Austin, TX - Stubbs BBQ
05/20 Dallas, TX - Granada Theater
05/21 Oklahoma City, OK - ACM Performance Lab @ UCO
05/22 St. Louis, MO - The Ready Room
05/23 Omaha, NE - Slowdown
05/24 Minneapolis, MN - Varsity Theater
05/26 Madison, WI - High Noon Saloon
05/27 Indianapolis, IN - The Vogue
05/28 Detroit, MI - St. Andrews Hall
05/30 Chicago, IL - Metro
05/31 Grand Rapids, MI - Founders Brewing Co.
---
A Story about Little Volvo Buddy AKA: King of the Road
Right outside of Richland the car started puffing white smoke out of the shifter and interior fans. I'd been smelling burning rubber or something for a minute, now it was clearly time to speak up. We pulled over, I opened the hood, more white smoke, looked underneath and watched a vat of oil dump out from under the car. A small environmental disaster. This was bad, and the worst the volvo had ever given in the previous 40,000 miles I'd been driving it.
The Tow truck showed up pretty fast this time. We convinced him to drive us to the venue in Walla Walla 67 miles away; getting ten of those miles covered by triple AAA and paying a chunk for a rest. We got there at 7:24 - six minutes early from the latest I could be. Middle of Nowhere sessions in Walla Walla with Raven and Writing Desk just finishing their sound check. We dumped the car across the street, loaded everything out and set it up. I went to the wine booth which was displaying a row of high priced washington wines, "Yeah, can you just give me something red that I can drink really fast?" They were nice people and it was a good show.
The next show was in Clarkston, 97 miles away. At this point I'm thinking the volvo is probably totalled, probably the transmission, maybe the engine cracked. I upgraded my Triple AAA membership to get 100 miles of free towing hoping that the next morning we could get the tow; which is in violation of their policy, but the only guarantee of making it to the show.
In the morning we went out to the car. The engine had no oil in it when we checked it. I called my Mechanic, Dennis Wilson, who used to build volvo's in Sweden and told him the situation, "Well, just put some oil in it and start it, see where's it's leaking out." We put two quarts in and started it up. Sometimes when you get an Oil change they can forget to screw on the oil cap, or the filter all the way and those will dump out. We watched them. Nothing. Sometimes it's the oil relay, we watched that. Nothing. Except from the bottom of the pan in the center a car, A Niagara Falls of oil was dumping out onto the parking lot of Charles Smith Wines. I called Dennis Again and told him what happened, "It's not like a camshaft or Engine crack if it's leaking that fast. If it's not the oil relay or Fuel Filter, I don't know.. oh.. Yeah, I know what it is. I know what it is." "Yeah" "Yeah, it's that Mickey Mouse job you put on the Alternate Mount. I bet for sure it's that."
The Mickey Mouse job was the bolt in front of the engine, that holds the tightness of the belt to the alternator. The original bolt, that was bolted to the engine mount, broke off near Centerville Texas in 2013. The car died at a gas station/bbq and I met up with the Mechanic, who had a voice like Jim Varney, and when I greeted him he immediately went inside and stuck his burning mechanic hand in a bag of Ice.
He got right to it and figured out the bolt. He was having a tough time with the extractor, and in between trying to get the bolt loose from the engine mount, he was stuffing his blackened fingers into a giant bag of cheese puffs, scarfing them down and finishing it off with a oil soaked marlboro. He got back to it, and on a final pull ended up breaking off the extractor in the engine mount. I looked at him and he at me.
The next five hours he spent destroying drill builts in the engine mount to try to carve away enough space in the broken off extractor to hela coil a new bolt back in. I spent it there knowing that the life or death of the car depended on this stupid alternator mount - a car that had made it to New Orleans twice at this point with no problems, that pulled through having the breaks go out in the mountains of Idaho, that had survived a revenge tire attack - but he did it eventually and I drove off into another story that is too long and dark to tell here.
Then the volvo drove another 10,000 miles through the mountains of Colorado, Utah and Idaho, and the forests and coasts of Oregon and Washington before the bolt busted out again in February of 2014 and entered into another life or death scenario of the car. This time with the help of Eric Penney, we tried to Hela Coil it again but it wasn't possible. Any attempt would not suffice. The cars fucked. There goes the volvo.
That's when Eric noticed a plug with a flat head screw hold right above the hole where you put the bolt for the alternator mount. "what's this?" He started unscrewing it. "Wait, is something gonna come out of there" "I don't know" "I mean, doesn't that need to be there?" He unscrewed and out came a short bolt. The solution was to find a similar threaded and sized bolt that would fit through the alternator mount, then we could secure and save the car. I spent two days going around Boise looking for the right bolt, having everyone shake their heads at me when I explained what I was doing. It turned out to be a plumbers bolt with a plumbers thread. I drove to the industrial plumbing supply building on the edge of town, had them shake their heads at me but came out with the right sized brass plumbing bolt that could mount the alternator. And it worked. The car kept driving. It went to Portland and back to Boise - Then on to Missoula where it completely ran out of Oil. I filled it with four quarts and drove it Moscow where a belt snapped and got caught in the AC unit. I made it eventually to Portland where I learned that the oil was coming out of the plumbers plug we Mickey Moused the alternator mount on. They called it a Noble Attempt, told me the brass bolt would never hold, and then sealed it up for me and it stopped leaking. Since then I drove 10,000 more miles on tours across the NW, all the way down to New Orleans again, all the way up the 101, all the way back to Boise and again through the NW all the way to Richland, Washington.
I got triple AAA back on the phone. What we had to tell them is that we were dropped off at a home shop, they fixed it, then the car broke again, and we were taking it to another home shop in Clarkston. They weren't really going for it at first, but after a lot of back and forth told me they would make an exception and we got the tow.
We met some Greasy Locals, one with a Mickey Mouse t-shirt who threw some dirt on the oil stain and looked at the car. I gave them a cassette tape and we helped push start their truck.
The Tow Truck driver was 10 minutes late and I caught up him two alleyways down trying to tow another volvo. I flagged him down. "Hey, did you call about the volvo?" "Yeah, it's another volvo down in the other alleyway." "Oh, shit, I'm glad you said something!" He dumped us off behind Hogans in Clarkston two hours later.
All the mechanics take the weekend off in small towns, whoever could help fix the car or know someone who could had to be at the show. With these situations it helps to remain positive. I think about old Star Trek episodes and refuse to believe that there is not a solution to every problem - because there is and eventually you will find one.
I couldn't find anyone. Except for Dave, who's the old busser and barback at Hogans, he kept asking me about the car and offered to help. I didn't know what was up the car, but I was weary about the fact that Dave could help at all, he didn't seem to have any tools - halfway through my set I was talking him about what it could be, and he wanted to take a look at it right then - I told him let me wait until I'm playing. Dave's 65 and works at Hogans for free as part of his therapy for his brain injury that he had 15 years ago. He used to be a bike mechanic and won me over with a tale of his YOYO and stories of meeting Elvis. We made a plan to look at the car the next morning.
We did the same thing with oil, this time with a pan underneath and the undercarriage cover removed so you could see the engine better. Started it, and we saw it - silky oil, water falling out of the Mickey Mouse job in the front of the engine. It was the brass bolt that must have snapped in half. I deliberated. Dave wasn't sure the fix was in his area of expertise. I told him I know how to take everything off that's in front of it, we just need a 10mm and 13mm and an Allen wrench for the Mickey Mouse job.
We moved forward, took off the fanhood and the fan, took off the belt to the alternator and moved everything out of the way. Dave removed the mount without unscrewing the brass bolt, it had snapped off in the engine. "We need an extractor. Let me go to the Hardware Store. You know we might be able to do this."
Dave came back with a hammer, extractor and wrench. "I got the hardware store in the back of my pocket. I just go in there and borrow whatever I need." He stuck the extractor in the broken off bolt and gently hammered it in, talking about what he was doing at every moment he was doing it. Slowly he turned the extractor and slowly the bolt began to come out - then finally it was loose. Dave looked at the broken brass part. "This was doomed to fail. You should keep it and make it into a necklace." He elaborated on the Mickey Mouse job. "You know, this whole thing is kinda like a brain baby. We're working in uncharted territory."
We need to find the same bolt, except made out of steal. Dave went back to the Hardware store and came back 30 minutes later. "You called for a mechanic, but what you really wanted was a plumber!" He had a steal plumbing bolt in his hand. It fit inside the plug. We checked it out with the mount and he went to the store again and came back with some washers and a socket wrench. We had everything we needed and took a brief safety meeting.
Dave kept on saying the mechanic work was really good for his injury, and that a brain injury is a hell of a thing. That when he went to the hardware store, they have all these drawers and labels for all these parts and every drawer he opened, the part he needed was always the first one right in front. That digging through Mr. Bin, which was a bin full of used bolts, in the hardware store he was putting everything back where it needed to be and he figured out most of the organizing system of the store. "Mr. Bin's made me a smarter man".
It was really blowing my mind that all this was going so smooth, that was had taken days in the past job is taking dozens of minutes this time. When you're in the brain of the car, understanding the mechanisms has everything to do with understanding yourself - everything inside of it has to be inside of you in order to fix it. Dave is Zen and Art of Motorcycle Maintenence. He's the guy.
He fixed the volvo and we drove it back to Boise.
---
On tour this March - more news to come concerning tape reissues, 7 inch release, cassingles, LP release, and more tours!
3.14 Hood River @ RiverCity Saloon
3.17 Portland @ The Know
3.18 Olympia @ Deadbeat Records
3.19 Seattle @ The Josephine
3.20 Walla Walla @ Middle of Nowhere Sessions
3.21 Clarkston @ Hogans
---
Clarke and the Himselfs plays treefort 2015. Click photo for more stuff.
---
Four Track Tascam Recording, Clarke and the Himselfs and Friends, recorded in November. Featuring Rex and Demmi.
---
9/24 BOISE @ Crazy Horse
9/25 LOGAN @ House Show
9/26 Ft. Collins @ Necropalace
9/27 Denver @ Angelos (Cassette Day)
9/28 Lincoln @ SP CE
9/29 Des Moines @ House Show
9/30 Chicago @ TBA
10/1 Help* or Driving Day
10/2 Memphis @ Lamplighter
10/3 New Orleans @ TBA
10/4 New Orleans @ TBA
10/5 New Orleans
10/6 Houston @ Mangos
10/7 Austin @ Help*
10/8 Marfa @ El Cosmico
10/9 Albaquerque @ GOLD HOUSE
10/10 Flagstaff @ Help*
10/11 Los Angeles @ TBA
10/12 Santa Cruz @ TBA
10/13 Oakland @ The Night Light
10/14 San Francisco @ El RIO
10/15 Santa Rosa @ Help*
10/18 Portland @ Lose Yr Mind
Braided Waves and Clarke and the Himselfs Tour
---
---
---
---



Clarke and the Himselfs II - 12/27/13
The XIV Himselfs Release

1. Railbug 2. Toxic World 3. Verbtown 4. Melanie 5. Untitled 6. Suicide Girl 7. Snake Song

Recorded at Firekeeper's Stereo by Jared Meyer in Ft. Collins, CO. June, 2013. Mixes, Masters and Additional Overdubs by Tuck Nelson at Goldtop Studios in London.




Clarke and the Himselfs - 06/05/13
The XIII Himselfs Release

1.See What you See 2. Never Meant What you Say 3. Cabin Boy 4. Better if you don't Say No 5. Front Street 6. Sun Falls down 7. Asteroid 8. Hate the World

Recorded on location at the Red Room in Boise, ID. Engineered by Eric Penney and Mixed and Mastered by Eric Penney and Clarke Howell in Newport, OR.
© 2019 and Beyond CLARKE AND THE HIMSELFS. All Rights Reserved.